Dear Tiny Manifestation of Evil,
So, we finally meet. You: the first naturally occuring cockroach I have ever seen. Me: mild-mannered student teacher by day, part-time super hero by night. There was a definite moment as I entered the laundry room and you paused in your scurry across the floor that our eyes locked.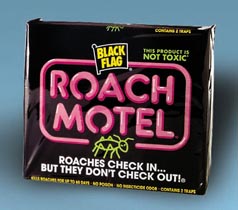 We stared at one another, sizing each other up for a good few seconds. Then, as we nonchalantly went our seperate ways, we continuously turned around to monitor each other's paths. No doubt, you were considering the brute strength that must lie within each of my disproportionately toned arms (Hey, I'm working on the shoulders, alright? Lay off. LOOK AT YOUR LEGS, SHRIMP!).
Listen, let me lay this out for you in a language that you can understand. I have no quarrel. I do not bite my thumb at you, sir. You pose no threat to me as you scamper across the floor, looking for God knows what (as it was past midnight, I'm forced to assume you were out looking for a lady friend). I live on a much higher floor, whereas you live in the basement, or you were just visiting. So long as you remain below ground level, in the land of dryer lint and the occasional pipe leak, we have no beef.
But I swear to Eric Clapton, if you so much as stick one little antennae into our hallway, I will sick the
baby panther
on you and she will rip you into a dozen nuclear-radiation-resistant pieces. Sure, you might have the upper hand when it comes to longevity, but who is more likely to survive the swift justice of the bottom of my sneaker? Me, that's who. Don't ask questions.
Listen, bug, I've wasted enough of my time writing this patient, heartfelt letter that you can't read cause yous straight ignant. You've probably already been smashed by someone since I started this tome, so I will wrap it up and wish you a good night far below my apartment, stuck to the squeaky wheel of a laundry cart.