Ever get really fixated on a song? Like, for whatever reason you just cannot get it out of your head, but you don't actually mind, because you really like that song? As soon as it's over, you want to hear it again? I've been going through a few of these cycles recently.
Last month, I was sweating this song pretty hard. It's from Detroit native Mayer Hawthorne, and if Andre 3000 ever did a Stax ballad, it would sound a whole lot like "Just Ain't Gonna Work Out".
If you can pick up the pieces of your blown mind after that, I'd like to slow it down a little bit with the song that has been stuck in my head all week. I never really cared much about this song until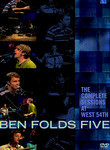 I saw it performed on
Sessions at West 54th
, but "Missing the War" by Ben Folds Five is the kind of poignant song that can sink in over time--until one day you wonder why you haven't really given it the attention it deserves.
The studio version is good, but the live version used to open their
Sessions
show is fantastic. Ben's voice is in fantastic shape, and the seperation in the mix gives you a great idea of what all three musicians in the Five are doing. The harmonies are beyond excellent. You can listen to it now, or download it
here
for your iPod. You're welcome.
Ben Folds Five - "Missing the War (live)"